Pearl Of Africa
Children's Choir From Uganda: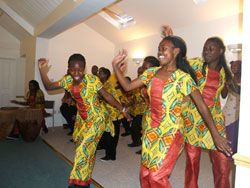 We are a welcoming, community minded, Bible-based, Evangelical/ Pentecostal, family friendly church, in the heart of the village. We are from various backgrounds and have come to know that Jesus makes a difference in our lives. We believe that Church is about People, not the Building.
Please go to News Page for details of all our services and other events for this month.
Celebration in Church
Baptism Service